Three years ago, Eugenio Souza – Rio Native's Managing Director, was the tour guide to the journalist Chris Moss, showing him some historical sites in Rio…please read the article below.
Now it is your turn to visit Rio de Janeiro "The Marvelous City" and explore the best we have to offer including the 2016 Olympic Games, New Years Eve, Carnival and the highlights like Christ Statue + Sugar Loaf Mountain + Maracana Football Stadium & more. 
Rionative will be happy to provide the best itinerary including Iguaçu Falls, Pantanal/Cuiaba, Manaus/Amazon, Salvador/Bahia, and many other tours.
A grand urban regeneration project – beyond samba and soccer – is going on all around Brazil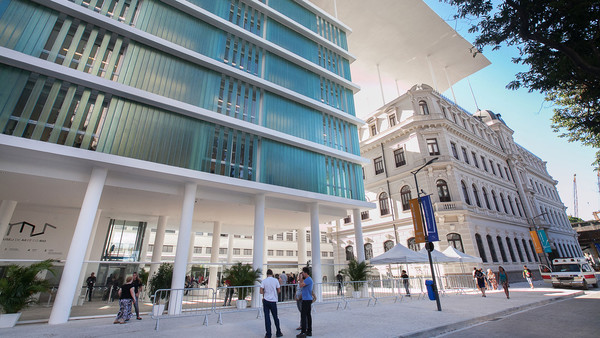 ©Humberto Teski – The new Museu de Arte do Rio
"I said to my wife, 'I know we all have to die but please let me live long enough to see what is going to happen here.' " Eugenio Souza, my guide in Rio de Janeiro, is not discussing Brazil's prospects for next year's World Cup nor the Rio Olympics in 2016. We are on the top-floor terrace of the Museu de Arte do Rio (MAR), a new public gallery, looking out over the port, and Souza is describing the grand urban regeneration project going on all around us.
MAR, which opened in March, is the first phase of Porto Maravilha, or Marvellous Port, a $3.77bn scheme to redevelop the area, due for completion in 2015. Souza points to the pilings for the Museu do Amanhã, or Museum of Tomorrow (billed as the world's first museum of sustainability), and enthusiastically reports that Donald Trump was in town the previous week to confirm plans to build three skyscrapers. He turns to face inland, pointing at the peeling tenements.
"This area has been abandoned for years," he says. "Look at the beautiful old buildings, all the facades are collapsing. This was a residential quarter but now it's known for girlie bars. Rio's oldest shanty town, Providência, is round the corner. The people who live here deserve something better than this and places like MAR will give them that and create jobs. The new port will be the entertainment and commercial centre of the city."
Inside MAR, the exhibitions add artistic colour to Souza's stories of the city's development. First up are some beautiful 1940s posters, promotional ads for the now extinct Brazilian airlines Varig and Panair and for the Royal Mail's steamer service from the UK to Rio. The smooth art deco lines and dreamy sunsets hark back to Rio's heyday as the choice destination for the international jet set.
In the next room are 19th-century oil paintings depicting Rio as seen by artists schooled in Europe. Here is the Corcovado mountain before the Christ the Redeemer statue was erected, and Ipanema before anyone would have dared walk along the prom in a skimpy bikini.
Over four floors, MAR celebrates Rio and its art. A black and white film shows the grand Avenida Central (now Avenida Rio Branco) as it might have looked in the 1920s. A huge display of a Copacabana resident's private collection seems partly aimed at reminding visitors that just a block from the beach there is high seriousness.
Souza closes in on the old oils. "Brazil began right here in Rio, in the port, in the 16th century," he says. "This city was the capital up to 1960, and the Portuguese empire was run from here. As they lay all these new foundations, they keep finding ancient treasures."
The next morning, I visit Casa Daros in Botafogo, 8km south of the city centre. Another new gallery (it also opened in March), it occupies a 19th-century neoclassical mansion refurbished with $41.5m of funding from Zurich-based collector Ruth Schmidheiny.
Working with curator Hans-Michael Herzog over the past 13 years, Schmidheiny has built a collection of more than 1,200 contemporary Latin American artworks. The pair selected Rio as the location for the gallery in 2006, when drug gang violence was still rife and before the World Cup and Olympics announcements were made.
"In Europe, there was zero interest because people there knew nothing about Latin American art – Latin American literature, yes, but contemporary art, no," Herzog says. "We started to acquire, which was so easy because the field was so very rich."
The inaugural exhibition (running until August 9) is Cantos Cuentos Colombianos, showcasing works by 10 Colombian artists that explore the dark themes of the decades-long civil war. A coffin in the colours of the Colombian flag built from Lego, with a white line down its centre, is called "Homage to the Children of the Drug War". A photograph of a beautiful young soldier resembles Michelangelo's "David", but one of his lower legs is missing, blown off by a mine.
"Brazil needs to show an interest in Spanish-speaking countries like Colombia," says Claudia Noronha, the gallery's press officer. "Casa Daros wants to bring to Latin America something it lacks – to show Latin Americans their own art and to help us get to know each other as neighbours."
The exhibitions at both galleries are temporary. Casa Daros has its ever-expanding Zurich stocks to pick from; Herzog, Noronha says, has "carte blanche" when it comes to acquiring works. MAR will eventually display a combination of ephemera and art related to the city. Both institutions are in Rio for the long haul and, in moving the focus away from the beaches and the football, and celebrating a city that is cosmopolitan, cultured and outward-looking, they remind visitors of Rio's grand past and, more importantly, its potentially glittering future.
——————————————-
Chris Moss was a guest of Audley Travel and Air France