Petropolis
R$500,00
(6 hours)
Located just 60 km / 38 mi from Rio de Janeiro, Petropolis is Brazil's "imperial city." Home to the former palace and gardens of Emperor Dom Pedro II, Petropolis is one of Central Brazil's most unique destinations and as such is is highly recommended to visit during your stay.  The tour includes a private car with guide  and visits to the Imperial Museum and Crystal Palace (an imposing glass winter garden).
Inquire Us
Optional Tours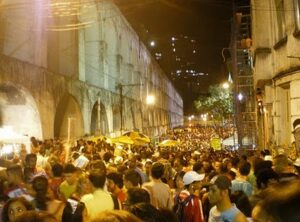 Rio by Night at Lapa (dinner not included)
5 hours with stop for dinner.
Lapa , an old and charming area of Rio de Janeiro, features some fabulous mansions which have been restored into works of art during a recent cultural renaissance. Lapa is now one of Rio's most popular night spots, with many people enjoying the street parties, samba clubs and other bars. The best concerts, delicious food and beautiful people, make this place different from the rest! The informal atmosphere is one of the main characteristic of Lapa's neighborhood. Many famous Brazilians music atrists perform here.
R$

550,00