Tijuca Forest (price per person – minimum of 2 people)
R$400,00
3 hours tour – customize your tour to fit a minimum of 5 hours
Get to see the contrast between the " Stone jungle and a Tropical rain forest in the middle of a big city".
This tour offers a magnificent view from the Vista Chinesa (Chinese View) towards Leblon & Ipanema beaches, the Lagoon Rodrigo de Freitas, Sugar Loaf and  Christ Staue.  Since we are driving towards the forest there is a chance to spot monkeys ( capuchin & marmoset), sloths, birds and butterflies. We will stop at Mesa do Imperador ( Emperor's table), Cascatinha (Taunay ) Water Falls and the Mayrink Chapel.
Trekking of approximately 40 mins through an easy trail where the botanical aspect is developed.
Inquire Us
Optional Tours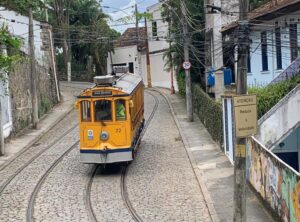 Santa Teresa (price per person)
3 hours
The neighbourhood of Santa Teresa was born in the area of a convent on "Morro do Desterro" (Exile Hill) during the 18th century. The district occupies a hill in the heart of the city, keeping aspects of the Rio Antigo (Old Rio) which delights writers and artists for its charm and its architectural and cultural riches. Through its narrow streets circulate the old cable-cars (the only ones still running in Brazil), which are considered historical heritage. The tour starts at Cosme Velho, through the Castelinho (Little Castle – Castelo do Valentim) – building known by this name, because the commander Antonio Valentim lived there in the late XIX century. Visit to Parque das Ruinas (Ruins Park), where the visitor has a privileged view of Rio de Janeiro. Then continue to the Museu Chácara do Céu (Farm of Heaven Museum) – which has a very interesting collection of Brazilian and European art highlighting Portinari, Di Cavalcanti, Matisse e Si Modigliani. Then a tour to Largo do Guimarães, considered the neighbourhood's heart, where there are several bars and restaurants.
R$

400,00