Santa Teresa (price per person)
R$400,00
3 hours
The neighbourhood of Santa Teresa was born in the area of a convent on "Morro do Desterro" (Exile Hill) during the 18th century. The district occupies a hill in the heart of the city, keeping aspects of the Rio Antigo (Old Rio) which delights writers and artists for its charm and its architectural and cultural riches. Through its narrow streets circulate the old cable-cars (the only ones still running in Brazil), which are considered historical heritage. The tour starts at Cosme Velho, through the Castelinho (Little Castle – Castelo do Valentim) – building known by this name, because the commander Antonio Valentim lived there in the late XIX century. Visit to Parque das Ruinas (Ruins Park), where the visitor has a privileged view of Rio de Janeiro. Then continue to the Museu Chácara do Céu (Farm of Heaven Museum) – which has a very interesting collection of Brazilian and European art highlighting Portinari, Di Cavalcanti, Matisse e Si Modigliani. Then a tour to Largo do Guimarães, considered the neighbourhood's heart, where there are several bars and restaurants.
Inquire Us
Optional Tours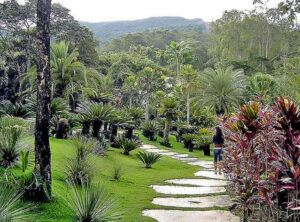 Roberto Burle Max Gardens (Price per person)
4 hours (under request)
Roberto Burle Marx (Sao Paulo, 1909-Rio de Janeiro, 1994) is known internationally as one of the most important landscape architects of the 20th century. An artist of multiple facets, besides being a landscape designer he was also a remarkable painter, sculptor, singer and jewerly designer. The Garden is located outside Rio in the estate of Barra de Guaratiba where he bought in 1949 a 365,000 square meter / 100 acres . Visitors can see more than 3,500 species of plants, an extraordinary collection of religious images and pottery from the River Jequitinhonha Valley, and, of course, Burle Marx's own paintings.
R$

600,00