Jaguar Photo Safari
The tour is scheduled for July 10rd – 17th 2016 and will no doubt prove popular. Please register your interest as soon as possible.
Find out what surprises Mother Nature has up her sleeve in Brazil – a country teeming with wildlife. This special 7 day tour is must for all nature enthusiasts and photographers alike.
Day-by-Day Itinerary
Day 1: Arrival
Arrival at the Cuiaba Airport and reception by your local guide. Transfer to Serra das Araras. The highlight here will be the spectacular Harpy Eagle. However, the Mother Nature can reserve other surprises for us in this particular region that is an area of transition between the Cerrado (remenicent of the African Savanna) and the imposing Amazon Rainforest.
---
Day 2: Harpy Eagles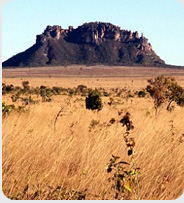 In the morning we will watch the Harpy Eagle, looking for the best shot.
After lunch, transfer to the Pantanal. Once our vehicle reaches the Pantanal floodplain, we will be driving in a pace that allows us to look for the wildlife along the road and make as many stops as necessary to take incredible pictures or simply to appreciate it.
We hope to arrive at our first lodge, at the Pantanal, by the end of the day. Check in is followed by dinner and an overnight stay at this fantastic location.
 

---
Day 3: Pixaim River & Transpantaneira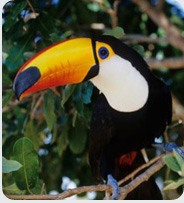 Early breakfast and motor boat ride along the Pixaim River, searching the Pantanal wildlife on the river banks, in the water or on the sky, sometimes you don't know in which direction you should point your lens. Everything you'll see here is beautiful and incredibly interesting.
After lunch we will check out and begin our driving to the end of the Transpantaneira dirty road – Porto Jofre. If until this moment we didn't get to see the Jaguar, we should be very anxious. Check in. A walk at the Hotel nearby, we may use a powerful spotlight to search for nocturnal wildlife. After returning to our lodge, we will have dinner and a deserved rest.
 

---
Day 4 and 5: Pantanal by Boat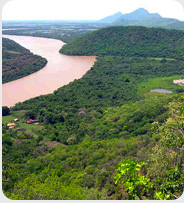 Two full days exploring the incredible Pantanal by motor boat.
After our breakfast, we will have boat ride up/down stream, searching for Jaguars and other mammals such Giant River Otters, Capybaras and the rare Tapir, among several species of interesting as birds and reptiles.
During both these days we will have a break to return to the lodge and enjoy our lunch and also take a rest. Don't worry, you won't miss a thing – our magnificent felines take naps during the hottest hours of the day.
Dinner and overnight stay at the Porto Jofre Hotel.
 

---
Day 6: Jaguars on the river bank
Breakfast followed by check out. Transfer along the Transpantaneira to another lodge at the Pantanal, with lunch in route and stops by the side of the road. By the end of the day new check in, the expected dinner and overnight.
---
Day 7: Breakfast and check out
Unfortunately, our amazing trip is drawing to a close with a transfer to Cuiaba. The best is that you are carrying a piece of this memorable trip on the pictures you have taken. Check in at the airport and flight homewards.
---
| Tour Prices | Per person |
| --- | --- |
| Group of 2 and 3 people (per person in a double room) | R$ 6,280.00 |
| Group of 4 and 5 people (per person in a double room) | R$ 4,846.00 |
| Group of 6 and 7 people (per person in a double room) | R$ 4,225.00 |
| Group of 8 and 9 people (per person in a double room) | R$ 3,998.00 |
| | |
| Single Supplement | U$ 45.00 |
| | |
Prices above are given in Brazilian Real and are based per person in a double room.
The exchange rate (US Dollars) of the payment day will be used. Convert currency here »
Tour Price includes:
All overnight stays, all meals(breakfast, lunch & dinner).
All ground transportation (with mineral water and air conditioning).
A bilingual full-time guide.
Two days boat ride in Porto Jofre.
Four hours boat ride at the Piuval lodge & Hotel Pantanal Mato Grosso.
Tour Extras (not included):
internal and international flights, laundry service, beverages, telephone calls and any other personal items / requirements.
Working Partners: